Bachelor of Arts (Hons) in Accounting &
Finance (final year)
會計及財務(榮譽)文學士
University of Greenwich, UK
英國格林威治大學
Course Objectives: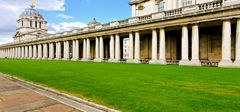 This one year – final stage Bachelor of Art (Hons) in Accounting & Finance degree aims to educate students with good competency to enter onto the professional fields of Accounting and Finance. This program consists of series of lectures, tutorials and examinations to develop candidates with practical skills and contemporary knowledge on the most needed competency required by the industry.
 China, the fastest growing economy in the world, becomes part of the WTO (World Trade Organization). A large number of qualified accountants will be needed to fulfil the huge demand of foreign companies and local companies operating their businesses in China and Hong Kong.
As Hong Kong is undergoing an economic structure change, many professionals in accounting and finance field are needed to serve and to make Hong Kong as the leading international financial hop in the world.



| | |
| --- | --- |
| Modules | Module Name |
| 1 | Finance (30 credit points) |
| 2 | Current Issues in Accounting (30 credit points) |
| 3 | Strategic Financial Management (30 credit points) |
| 4 | Auditing (30 credit points) |
Admission Requirement
a higher / advanced diploma in accounting & finance from IVE, HKPoly U, City U, Open U, HKU, OR
4-year Honours Diploma in Accountancy from Hong Kong Shue Yan College, Caritas Francis HSU, Chu Hoi College, OR
passed ACCA Level 1 & Papers 2.1, 2.2, 2.3,2.4 & 2.5, OR
passed CIMA Papers 2, 5 & 8, OR
passed AIA modules C & D, OR
passed HKICPA PBE, OR
passed ABRS Advanced Diploma in Accounting and Finance, OR
mature candidate with strong academic background and long working experience in accounting / finance, OR
other equivalent qualifications.
Duration:
The Advanced Diploma in Accounting and Finance will last from 4 months to 9 months depending on your entry qualifications. Each module consists of around 40 face-to-face lectures hours, an assignment and a 3-hours examination.