NCC UK Global IT Campus Postgraduate Diploma in Strategic Business IT with articulation toward
Master in Information Systems Management
戰略IT商业硕士文憑銜接資訊系統管理碩士學位
University of Greenwich, UK
英國格林威治大學
Course Objectives: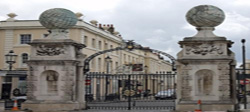 Postgraduate Level Diploma (taught programme) from a leading UK and International Qualification Body in contemporary strategic business IT
Advance to an taught / online M.Sc. from internationally recognised British Universities with 120 credits articulation
High quality programmes delivered by local and international experts.
An opportunity to combine Project Management Professional (PMP) from PMI  with academic subject
.Minimum completion time 9 months, up to maximum period of 36 months
Taught courses offered by ABRS – a leading IT and Management training institute  since 1990
Students are eligible for Internet access to University Web Resources / Internet Library,  ABRS Internet web based administrative information, plus access to VTC MDC Library (3 minutes from ABRS JP Office)
An Internet Learning enabled programme for travellers - Students may opt for "Class Plus" recorded internet delivery for lectures, which enable business travellers / distance learners to participate in the program even when they have to travel to other cities in China/ Asia (additional service fee may apply)
Programmes internationally available in many countries, a high degree of portability and transferability


| | |
| --- | --- |
| Modules | Module Name |
| 1 | Regular Mode |
| 2 | Twice a week: : one weekday evening and one Saturday PM or Sunday AM session |
| 3 | Special Intensive Mode |
| 4 | Occasionally overseas visiting lectures  held within one week with 4-5 consecutive sessions |
Admission Requirement:
A good undergraduate degree from a recognised university in IT or related fields, or
 Non-IT Degrees with 3 years+ related technical +/management experience, or
 Professional Experience Entry, or
Other qualifications (e.g. Higher Diploma, Diploma in IT with strong industrial experience of 5 years at minimum) may enrol subject to assessment by the NCC and ABRS,or
English Proficiency: Applicants other than native speakers of English or graduates of Universities from English speaking countries are required to possess an English level at IETLS 6.5or equivalent or passing an English test for admission
Duration:
The minimum completion time is 9 months and the maximum is THREE* years (*subject to course availability)
Enquiry (報名及查詢):
We will have more Information Sessions coming up, please contact us on 2598 4811.