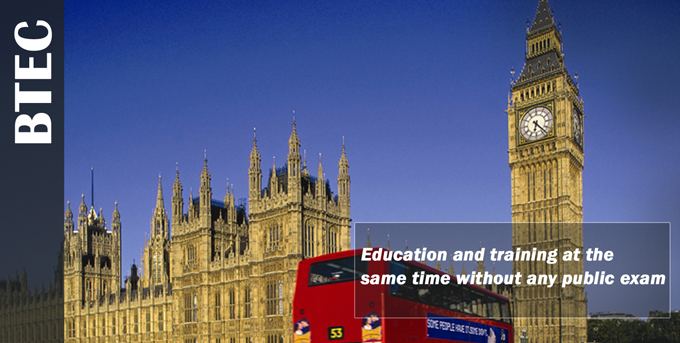 Course Objectives:
Originated as a UK government qualification, BTEC is broadly recognized as an alternative path to A level for career and university admission. It is a work-related qualification which provides practical trainings of professional knowledge and skills for a specific profession. Students can be equipped with industrial knowledge and practical skills that help them in the work place. BTECS can be taken alongside, or in place of A levels.
BTEC Level 3 Diploma specialist qualifications for students with a clear view of their future career or seeking progression to higher education
Commencement : Autumn (Late Sept/ Early Oct), Spring (Feb) & Summer (July)
Duration :


Full time : 6-8 months
Part time : 8-10 months/ 12-16 months
課程模式:
Full time 一年制 (6-8個月)
Part Time 一年/ 兩年制 (a. 8-10個月, b. 12-16個月)
Subject(s) to study : Usually one subject to be taken alongside of A level
Subjects :
1. Business
2. Engineering
Admission requirement :
This course is assessed by coursework rather than examinations. It is usually assessed through assignments that are both set and marked by our teacher.
Aged over 16
Mathematics and English at F.4 Level
Relevant subject study is preferred at same level is preferred
Duration:
Full time : 6-8 months
Part time : 8-10 months/ 12-16 months
Enquiry (報名及查詢):
Please contact 21161039/ 25190094

Useful Link:
http://www.abrs.edu.hk/iuf/