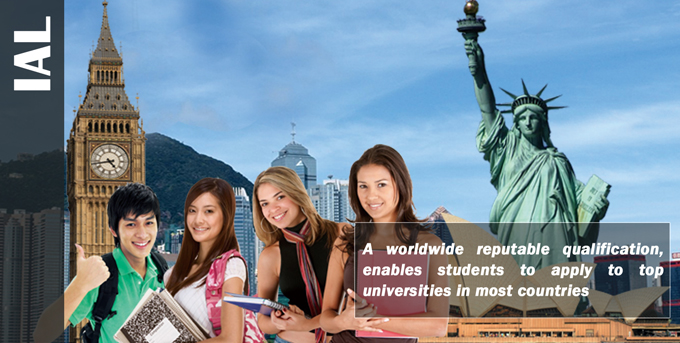 Course Objectives:
The IAL is a worldwide reputable qualification which allows you to gain entry to the most competitive degree courses at a full range of UK universities and beyond. There is less restriction on the choice of subjects which enables you to do science subjects alongside with business and applied science subjects. Retakes of unsatisfactory module results are accepted.
Commencement : Autumn (Late Sept/ Early Oct), Spring (Feb) & Summer (July)
Duration :12 months
課程模式 :
A Level預備班 : PM, Weekend, Evening
A Level全讀班 : PM
暑期 + 試前密集班 : 7/ 8月 , 12/ 5月
Subject(s) to study : Usually one subject to be taken alongside of A level
Subjects :
Science Stream : (Elective)
1. Physics
2. Chemistry
3. Biology
4. Mathematics
Business and Applied Social Studies: (Elective)
1. Business Studies
2. Economics
3. Accounting
4. Law
Optional Module :
Prepares you for assessment by the International English Language Testing System (IELTS).
Admission requirement :
There are January and June examinations to support student wishing to progress to local (Non-Jupas) and international universities. This course is 100% external assessment with no coursework.
Aged over 16
Mathematics and English at F.4 Level
Relevant subject study is preferred at same level is preferred
Enquiry (報名及查詢):
Please contact 21161039/ 25190094

Useful Link:
http://www.abrs.edu.hk/iuf/